The most refined, absolute best hostels in Europe
While few things make me happier than falling asleep in Egyptian-thread sheets and bathing in L'Occitane toiletries, I do appreciate a good hostel as well as any good budget-strapped-with-luxurious-taste traveller. My friend Kash recently published the Bible of luxury hostels in Europe, which focuses on luxury hostels in Europe with high standards, stylish private rooms and affordable prices.
I like good value, regardless of what price I actually pay. I absolutely love splurging on a 5* hotel room every now and then, and I expect impeccable service, marble floors and 50″ TV screen when I do. Just as I expect trendy decor and welcoming staff in a luxury hostel. I like knowing my money is smartly spent, and these hostels provide exactly that: modern decor, good location, top-notch facilities and competitive prices.
RATES START AT €70 FOR A double PRIVATE EN-SUITE
It's hard to believe this is a hostel, really. Housed in a beautifully restored 19th-century building and featuring just 9 contemporary rooms (2 double private, 7 dorms), the Gallery Hostel in Porto is small but mighty and completely redefines the hosteling experience. All custom-designed beds have plugs, USB port, and individual lights while each dorm has its private en-suite bathroom; all include heritage elements of Portuguese culture. This luxury Porto hostel also has a gorgeous bespoke restaurant, garden and terrace.
Rates start at €60 for a double en-suite room
I had the chance to stay at Ecomama a few years ago and discover the underrated area nearby Plantage. One of the early luxury hostels in Europe, it's now become one of the most remarkable in all of Europe especially when you factor in their environmental efforts: fair-trade materials, locally-made furniture, natural stone heating, eco-friendly waste management, just to name a few. That's a yes for me.
Accommodation-wise, it's also a yes for me: all rooms are inviting, warm and full of artsy-DIY touches. There is a variety of double rooms and backpacker dorms, some women-only. The common areas is filled with vintage furniture and sings to the rhythm of the record player and there are teepee tents for lounging on movie nights.
Kex Hostel

, Reykjavik
Rates start at 16,000 ISK / USD $120 for a double en-suite room
Kex is the Icelandic word for "biscuit" and for this reason alone I was tempted to stay at this Reykjavik hostel. Budget accommodation in Iceland is hard to come by, and when you find a good one, you appreciate it that much more.
The dorms are bright and spacious (some are women-only), in addition to featuring ample and safe storage for luggage. There are also double, single and twin ensuite rooms available, many of which offering a view of the Reykjavik harbour and mountains across the bay. As far as the decor go, this is a seriously hipster hostel. Expect the perfect Nordic postcard: heavy on dark woods, vintage touches, mid-century furniture and all-around retro atmosphere. The bar is a great place to spend the evening and watch the midnight sun or the aurora borealis, if you're lucky.
Rates start at £60 for a double en-suite room
Newly renovated, the more iconic of all London hostels will open for guests in April 2022 set in a Victorian courthouse where punk band The Clash once stood trial. Located in King's Cross, close to all transportation links for travelling within and outside London, Clink 78 is definitely a refined, one of a kind hostel experience where you can sleep in an authentic prison cell or chill in the original courtrooms.
Rates start at €50 for a single en-suite room
After staying in their Paris, Dublin, Berlin, Copenhagen and Hamburg properties, I think I've fairly assessed that Generator Hostels is the best chain of hostels in Europe. All of their hostels are stylish, generous in size, have splendid common areas and more often than not, unbeatable locations.
They have a perfect grasp of what 20-something travellers want for their accommodation: modern and no-frills rooms, a lively yet inviting ambiance, ample power sockets and free WiFi, a good location and fair prices. We don't need no bellboys and minibars and jacuzzis; we just want a good place to spend the night that won't break the bank.
RATES START AT €55 FOR A double PRIVATE EN-SUITE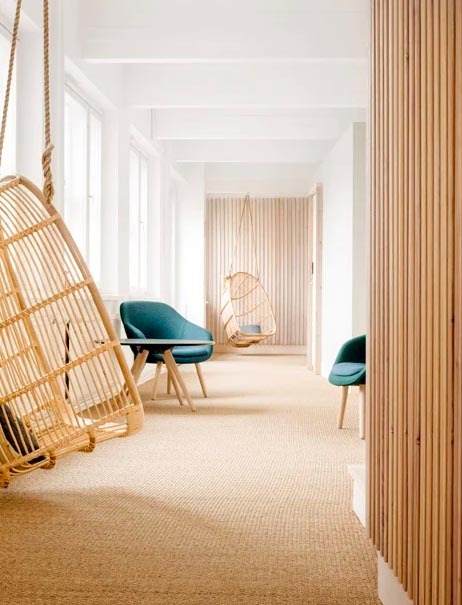 If you're planning to spend some time in Scandinavia, more precisely in in the south-west of Finland, then perhaps you should consider Dream Hostel for your base. And it's not just me saying so; it was selected one of the top ten luxury hostels in Europe by The Guardian. The property is near the main train station and features inviting and typically Nordic decor with tonnes of wood, bright open spaces and large windows.
Rates start at €45 for a single room with welcome drinks included
I stayed at Jaegers Munich during my Christmas markets stint last December, and the private room provided exactly what I needed: ample covers, efficient heater and fast wifi! It was a wee bit cold outside during my visit (slight understatement, it was freezing cold) and I couldn't have been more thankful for my hostel near Munich train station. The rooms are far more modern than the common areas on the ground floor and come fully equipped with ample storage, cable TV, power shower and hairdryer.
Rates start at €85 for a double private en-suite with breakfast
I stayed at St. Christopher's Inn Canal (they now have a second hostel near du Nord) well before I even thought of having a blog, back when I was just a regular backpacker will a small budget and big expectations. I wasn't as in love with Paris then as I am now, and this hostel, thanks to its fantastic canal-side location, helped soothe my Paris wounds. Purpose-built in 2008, it's one of the most modern hostels in Paris and comes fully equipped with the latest technology (pod beds, ample charging stations and tasteful decor).
Rates start €80 for a two-bed ensuite apartment with kitchenette
My other favourite hostel in Berlin is Singer 109, which is located minutes away from the iconic Fernsehturm and busy Alexanderplatz. One of my favourite things about this apartment-hostel is not only its extensive list of on-site activities, but its strong character; indeed, the hostel is located in a historic red brick building that dates back to the early 1900s and features a massive atrium in the centre, filled with luxuriant plants and archive photos of the building's previous lives. A feature more often seen in private residences rather than budget hostels!
Rates start at €85 for a double private en-suite with breakfast
Set in the heart of the first ever surfing reserve in Europe, this charming seaside Portugal hostel offers privileged views over the village of Ericeira and the Atlantic Ocean. Think of it as a budget-friendly motel-style resort for surfers. Installations include an outdoor swimming pool, a yoga studio and a skateboard ramp, while all dorms and private rooms have ensuite facilities.
Rates start at £110 for a double en-suite room
Established by a London-based couple that grew tired of the frenetic big city lifestyle, this charming UK hostel has become a destination in its own right in the stunning Snowdonia National Park just minutes from picturesque Betws-y-Coed, the Ogwen Valley and the Snowdon Horseshoe. With both mountains and beaches accessible on the same day, this really is a trip that you won't soon forget. Accommodation-wise, the hostel features a mix of private ensuite rooms and shared dorms for up to 8 guests, in addition to a cosy, firelit lounge area filled with books.
Best hostels in Europe: more suggestions
Honorable mentions to hostels I've never visited but that generally receive good reviews from fellow travellers: