How to pick the perfect carry-on bag + my packing list
For most people, the absolute worst part of a trip is packing. They'll spend hours on end pinning tips and photos to Pinterest and will gladly relish in an 8-hour train ride, but watch their expression change when you ask them about packing. Luckily, as I've made travel my living and after visiting 26 countries, I'm happy to report that I finally mastered a seamless packing technique for both my carry-on bag and checked luggage.
Now: this is NOT a post about how to travel with just a carry on bag. If you've been reading this blog long enough you'll know that carry on travel is a ludicrous concept for this notorious over packer (I like having options; plus, you can't buy wine when you've only got a carry on, so there). This is simply a piece about what I bring on the plane every time I travel, how I organise everything, and why each item is important. Consider this my useful, minimalist, and efficient guide on what to pack to enjoy your plane ride.
Breaking news: you really don't need as much stuff as you think you do.
The best bag for carry-on travel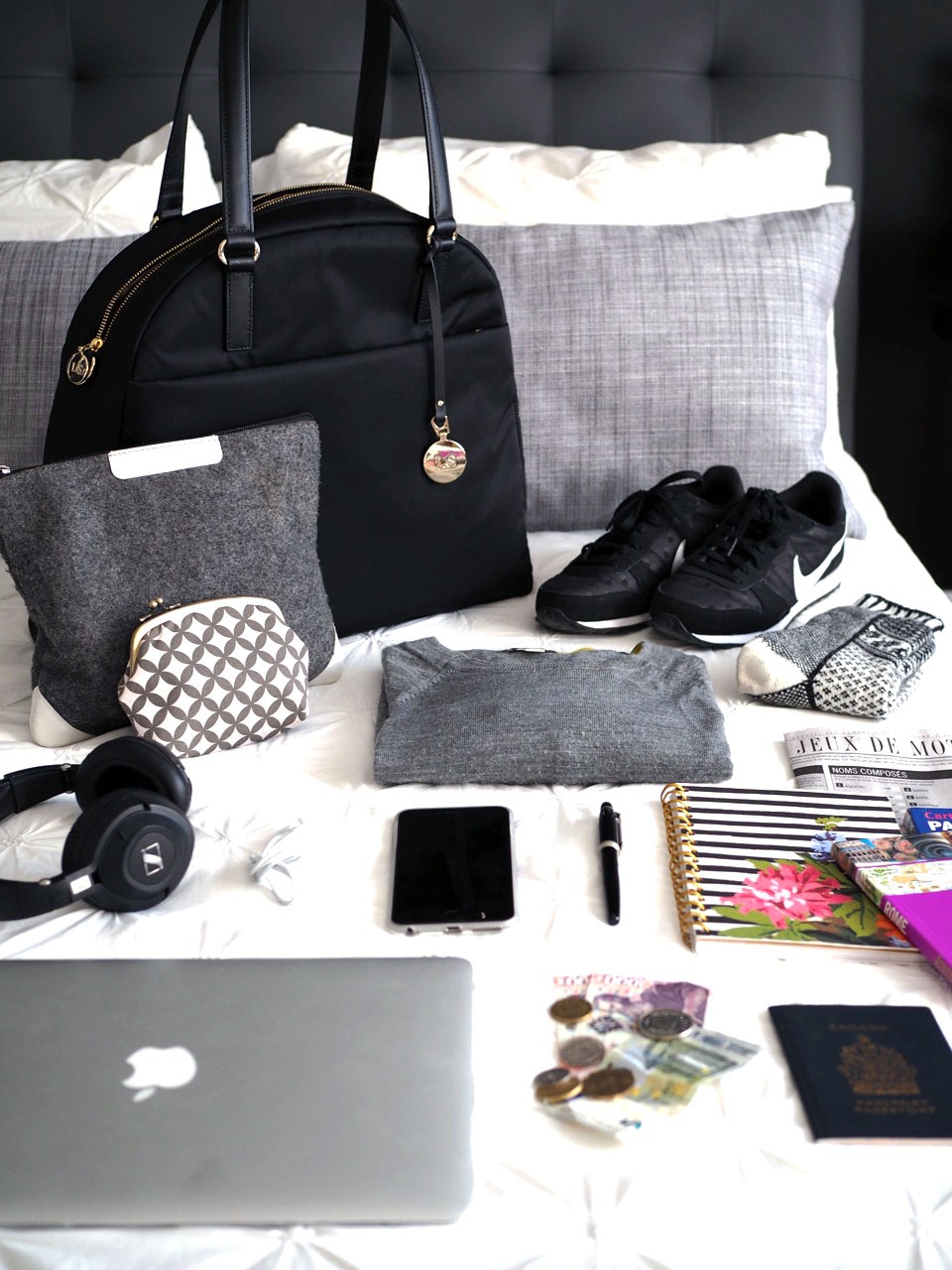 My absolute favourite carry on bag is the OG by Lo & Sons. Not just because it looks incredibly luxe and sturdy (although that definitely helps); I like it because it's just plain brilliant.
In terms of comfort, the OG bag features a handy and adjustable back panel sleeve that secures the bag over luggage handles as well as a detachable messenger strap. It was also designed to be roomy and yet compact enough to fit right under a standard airplane seat, which means I don't have to get up and awkwardly rummage through my bag in the overhead compartment every time I need something (you know exactly the situation I'm referring to, eh?) or stress about the compartments being full.
And at just 2.2 pounds, the bag is lightweight—just how I like my luggage.
See how orderly this is? Everything—laptop, entertainment, essential items, and extra clothing, yes, all of it!— that was laid out on the bed in the above pictures now fits snuggly in the OG bag, and this is why I like it so much: it's got just enough sections and pockets for everything to have its place and yet not so many that you are overwhelmed with options.
Small knick-knacks are organised in pouches and are, therefore, much easier to locate and clothing is rolled and placed upwards for easy access. Shoes are stored in the separate compartment underneath for an even roomier and tidier space at your feet.
Just pack everything, zip your bag, and you're good to go.
Here's what I never leave home without, whether it's for a short or a long flight. There really isn't much, but as it turns out, you just don't need a whole lot.
Side note: I always pack an extra pair or two of underwear just in case my luggage gets lost in transit, which would allow me to keep my personal hygiene to a minimum until I get my luggage. But I didn't think anyone would want to see my underwear so I'm just mentioning it here.
Toiletries & first-aid kit
These are super important. I'm not a high maintenance kind of gal —more like medium maintenance if that's a thing?— but I'm adamant about staying presentable and keeping the cute at a bare minimum. What's in my carry on beauty bag (note that almost everything is travel-sized):
Pressed powder + mirror (I have oily skin so this is an absolute must)
Mascara
Concealer
Rejuvenating and refreshing serum
EOS lip balm (long flights are incredibly dehydrating!)
Hand cream (again, never underestimate the power of moisturising on the plane)
Gum (also good for when your ears get blocked)
Hair band
The pouch is from an amenity kit I got on my most recent Air New Zealand flight
There's no point in looking pretty if you're hurt or you're feeling unwell, am I right? Over my eight years of travel I've learned the hard way that I should be prepared for as many options as my pouch will allow. My first-aid kit reflects issues that I personally have to deal with on a regular basis but your reality may very well differ; make sure you pack medicines for what YOU are prone to suffer from.
Extra clothing
In my experience, planes are either numbingly cold or swelteringly hot, never anywhere between; which is why I always make room for an extra pair of socks and a sweater (I usually go for something loose that won't make me feel constricted) whenever I get in carry on packing mode, just in case it's the former option instead of the latter.
Entertainment
Noise-canceling headphones
This is the one thing in all of this list that is worth splurging on. Noise-canceling headphones not only dampen the shrieks of tired infants but also the noise of the plane's engines. Truly, these are life-savers.
Travel books
One of my favourite travel rituals: reading books while I'm on the plane. It energises me and makes me forget that I'm having a rather awful time on what is essentially a flying bus. It also helps me relax and even doze off, something the blueish light of the monitor simply cannot do. And if you're worried about going over the weight limit of carry-on bags, download any or all of these books to your iPad or your Kindle for a stress-free flight.
Pen, notebook, newspaper
The pen comes in handy when it's time to fill out the goddamned landing card (can't wait for border agencies to get rid of those), while the notebook allows me to write down post ideas or itineraries. Last but not least, I always bring the games page from my local paper as well, which usually keeps me busy for well over an hour.
Travel essentials
Laptop
I often get a head start on sorting and editing photos while I'm on the plane back home. We all know easy it is to procrastinate this task—ain't nobody got time for that. I precisely opted for a slick, thin 13″ MacBook air so that I could take it along anywhere.
Foreign currency
Frankly speaking, I normally wait until I've arrived at my final destination to withdraw money from a local ATM. But if I've got leftover bank notes or coins from a previous trip, I make sure to bring it along in order to not be stuck with it for eternity. And obviously, don't ever pack anything other than toiletries and clothes in your checked luggage; anything that even remotely has value should be kept close to you.
Business cards
Because you never know who you're going to meet on the plane!