17 easy day trips from London
Rumour has it that one is never more than 60 miles from the beach in Britain. Indeed, the island is quite compact but that doesn't necessarily mean it is entirely homogeneous. Quite the contrary! On any of these 17 day trips from London below, you are guaranteed to discover a sliver of the complex English history and identity. Whether you opt for a seaside getaway, a Harry Potter themed excursion, an urban exploration or a combination of the three, England is at your doorstep.
Brighton
Counter-culture and forward-thinking dispositions explain why Brighton is light-years away from the quaint fishing villages of coastal England.
Here, you'll find the UK's biggest gay scene, the most shocking venues, and the Channel's best clubbing, along with the myriad of hipster cafés and vintage shops in Brighton Lanes. The beach, with its chippy stands and its whimsical Brighton Pier, truly is for everyone.
Oxford
How do you summarise a city steeped in a thousand year of academic history? Oxford is indeed quite privileged, being home to the world's most famous university, but also utterly elegant and charming. Tour the colleges, have a pint where C.S. Lewis and J. R. R. Tolkien used to hang out, geek out at the Harry Potter filming locations, explore the quiet cobbled lanes, go up the Radcliffe Camera, hire a punt, go further afield at Blenheim Palace, walk in the footsteps of Prime Ministers and poets…
The possibilities, in lovely Oxford, really are endless. However, I cannot recommend a walking tour highly enough. Only pro guides are familiar with the details and hidden stories of this town.
Liverpool
Liverpool has been working very hard to shed its reputation as a rough, rowdy city and good news: it's working. The Albert Docks are quite lovely and the impressive cultural heritage is only enhanced by the equally important and legendary Beatles heritage.
York
An immaculate circuit of 13th-century walls encloses a medieval spider's web of quaint pedestrian streets – at its heart lies the immense, awe-inspiring York Minster, one of the most beautiful Gothic cathedrals in the world.
The extraordinary historical wealth is prominently featured, as it should be, in the city's plentiful pubs and cafés. In other words, York is amazing, and you really shouldn't miss it.
Bath
Bath is best known for three things. Firstly, its sophisticated 18th-century Georgian architecture as demonstrated on the Royal Crescent. Secondly, the world's best-preserved Roman bathhouses due to the natural hot springs the city is built over. Lastly, for being one of the prettiest and kindest cities in the heart of the rolling countryside of southwest England.
Stratford-upon-Avon
Not only is this market town Shakespeare's birthplace, it's also chock full of 800+-year-old buildings that would have been familiar to the Bard. It's even possible to visit the very hall where he was first introduced to theatre!
Paris
Maybe not the most obvious choice for day trips from London, it's actually an easy option. If it's your first trip to Europe, why not kill two birds with one stone and add Paris to your visit?
Thanks to Eurostar, central London and central Paris are now linked by a direct 2.5 hours train ride. Likewise, there's no need to list all the reasons why a day trip to Paris is a good idea!
Stonehenge
Stonehenge isn't bad at all – the sheer fact that these rocks were probably hauled all the way from Wales back in 2000 B.C. is actually very impressive, to say the least. To this day, specialists still don't explicitly agree with its vocation. Was Stonehenge a healing temple, a sun worshiping place, a burial site or a life-size calendar? No one knows for sure.
To clarify, I highly suggest getting either an early or private entry to Stonehenge. You'll be able to get closer to the rocks that way. I did the regular tour and regretted it, as the stones are quite far.
Dover
Dover is a great discovery. Do walk the scenic North Downs Way, a trail that follows the famous white cliffs. If you want to see those cliffs from another angle, hop on the Dover-Calais ferry and enjoy the views (prices vary).
Beside the cliffs, another jewel of Dover is the castle. It's one the most ancient Roman construction of Britain, built 2000 years ago. Known as the "Key to England" because of its military history, it was last used during the WWII (check out the Secret Wartime Tunnels part of the Castle). But don't spend all your time indoors; get out and smell the fresh air!
Windsor
Visit the Queen's favourite weekend home – the world's oldest, largest inhabited castle! Just an hour from London and easily combinable with other landmarks in the area.
Cotswolds
Rolling gracefully across six counties, the Cotswolds are a delightful tangle of glorious villages, thatch-roofed cottages, rickety almshouses and ancient mansions of honey-coloured stone. In fact, these hills are perfect for walking, cycling, and even horse riding, crisscrossed by the 102-mile Cotswold Way. My favourite villages are Bourton-on-the-Water, Castle Combe, Bibury, and Chipping Campden. On the other hand if you'd rather have a guided tour, there are plenty of departures from London every day.
Downton Abbey
I wrote about my day trip experience at Highclere Castle (the castle's actual name), which also included stops in Oxford and Bampton, which acted as Downton Village. In essence, if you're a fan of the series this expedition is definitely a must-do!
Leeds Castle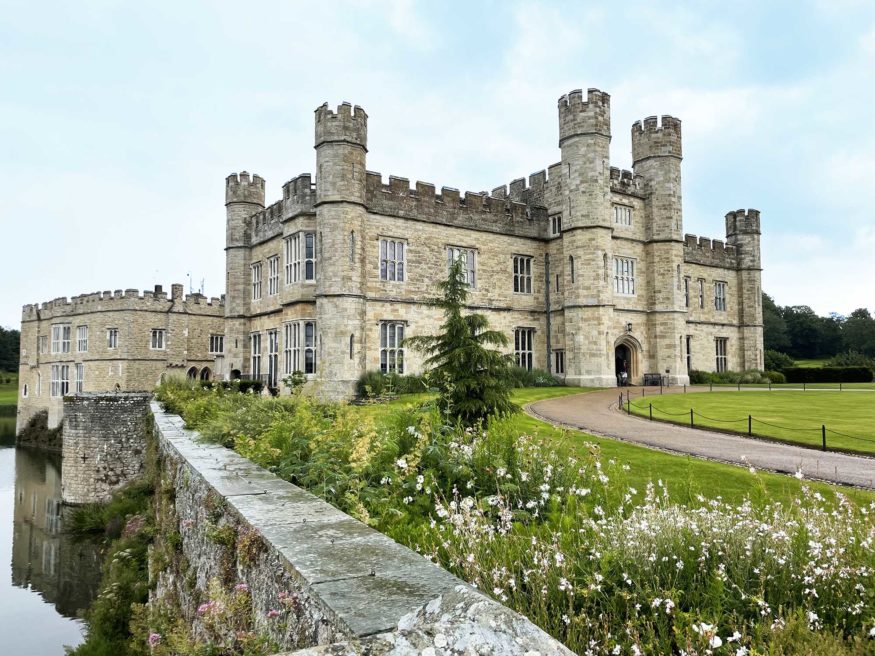 Is Leeds Castle the prettiest in England? Quite possibly. A noble property, surrounded by a moat and only accessible by a drawbridge, with imposing stone towers and lavish gardens, perhaps? Because that's exactly what the Leeds Castle looks like. A picture perfect portrait!
Moreover, a lovely part of the castle grounds is the beautiful garden. You can actually tell when you get closer to it because the smell of flowers is very strong and very appealing. Peonies, poppies, lad's love, roses, lupins, and about a dozen other flowers await in a classic English garden design.
The best day trips from London: places I haven't been to yet but look amazing