London bucket list: 33 things you need to see and do
London and I go way, way back; in fact, as far back as 2008, when I bluntly decided to move there despite never having been out of my home country of Canada. Eight years and eleven trips to London later, our love affair is still going strong. I've visited the majority of noteworthy landmarks and explored its incalculable quaint streets; I think it's fair to say I've got a pretty grasp of what parts of the city must be seen in a lifetime.
Are you indeed a first-timer to London? Here are the 33 places you've got to see and things you've got to do during your visit. Welcome to London!
Historical London pubs
Whether you're on the prowl for a cask ale or an atmospheric pub, London has no shortage of watering holes; in fact, there are over 7000 pubs in the city! I am well on my way to sampling them all but for now, my two favourite historical London pubs are the Churchill Arms in Kensington (once the local of Churchill's grandparents), the Holly Bush in Hampstead (200 years old, features a fireplace), and the Nag's Head in Belgravia (quiet mews pub that tourists don't know exist).
Buckingham Palace
It would be rude to not pop in to say hello to Lizzie! You've got two options: opt for a visit of the state rooms (limited openings throughout the year, plan accordingly) or simply catch the changing of the guard every other day at 11.
Houses of Parliament & Big Ben
A visit to London is not complete without a selfie with its very emblem! Make sure to visit on the hour, when the legendary bell chimes. History buffs should book a tour inside the Houses of Parliament to learn more about the world's most famous bell.
Borough Market
London's oldest market —a ripe 1000 years old— features dozens of foodie stalls. A great place to watch locals and purchase gourmet gifts. Note that the market is only open from Wednesday through Saturday.
London Eye
The view from the London Eye, especially of the Houses of Parliament and the River Thames, is simply unparalleled and is well worth the cost. The Ferris wheel was, at the time of construction, the world's tallest at 394 feet.
Hampton Court Palace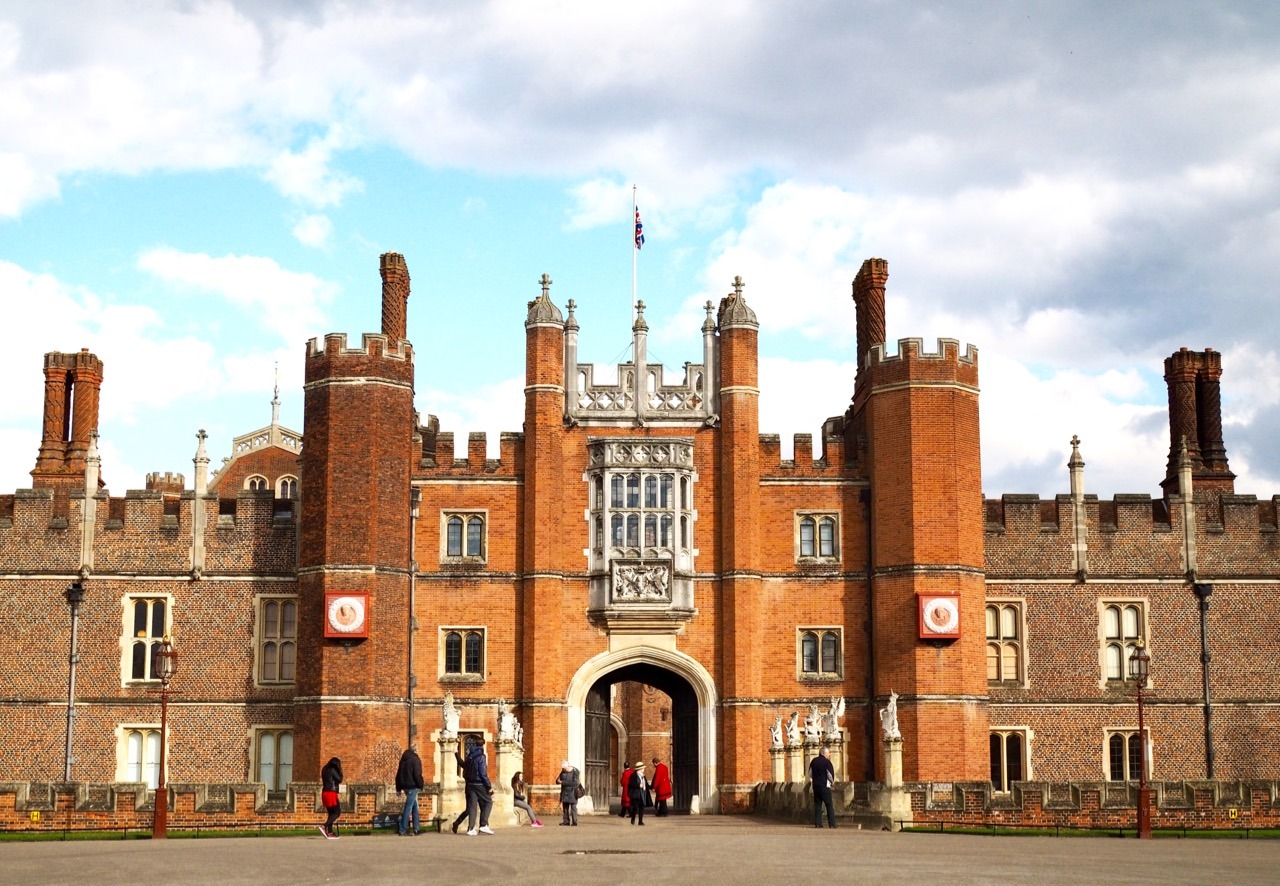 The stern, Tudor-style royal palace is one of only two surviving palaces owned by King Henry VIII and features several exhibits about the life and death of this infamous womaniser. You can even book a bike tour of the grounds!
A themed London walking tour
Natural History Museum
Welcome to Darwin's former playground—indeed, many specimens found inside this London landmark building were collected by the scientist himself. The total collection comprises 80 million items within five main collections: botany, entomology, mineralogy, palaeontology, and zoology. The NHM is famous for its award-winning dinosaur skeleton exhibit. Why not book a skip-the-line, private visit while you're there?
Curry on Brick Lane
For the longest time I suspected that all of Brick Lane's curryhouses shared the same underground kitchen; that is until I stepped in Aladins. Listed by the BBC as «one of the world's best curryhouses», Aladin is a traditional Indian eatery with scrumptious and shareable dishes.
A Thames River cruise
Only Taylor Swift can afford to hire a luxury speedboat to cruise the River Thames; if, you too, are a mere ordinary mortal, cruising on the Thames is London's most scenic mode of transportation, all the way from Putney to Greenwich.
Kew Gardens
UNESCO World Heritage Site home to the world's largest and most diverse collection of living plants, as well as a stunning Victorian glasshouse. I could've spent a full day exploring the seemingly never-ending gardens! Plus, Richmond is an absolutely idyllic riverfront district with plenty of quaint pubs. More recently, this is also where Ted Lasso was filmed!
Harry Potter studio
Indulge your inner Potter fan at the studios where they filmed most of the scenes. Learn about the casting process, the special effects, and the clever tricks used throughout all eight films, drink butterbeer, and visit Diagon Alley and Godric's Hollow.
Tower Bridge & Tower of London
If you can handle crowds, stick around for a free guided tour led by the infinitely knowledgeable Beefeaters. The historic fortress and UNESCO World Heritage Site was built by William the Conqueror in 1078; this is where Elizabeth I was imprisoned and where Ann Boleyn was unfortunately beheaded for her poor taste in husbands; in fact, much of England and Britain's history was played within these very walls. Also where the regal Crown Jewels of England are stored. All in all, a definite must-do!
Primrose Hill
The 213-feet high hill is set in one of London's most affluent locales—Primrose is the place to stalk incognito celebrities—and offers great views of the London skyline; the perfect place munch on a picnic and indulge in peoplewatching. Visit the world's oldest scientific zoo just south if you've got time!
A gourmet London walking tour
Regent's Canal
The best way to explore London from Maida Vale to Hoxton, in my humble opinion, is to wander aimlessly along the bucolic Regent's Canal, one of the city's most underrated attractions: marvel at mansions, take a stroll in Regent's Park, eat at Camden Market, embark on a cruise. You can even shop for second-hand books on the word on the water barge!
Camden Town
Browse the market's eclectic stalls (leather goods, jewellery, clothing, vinyls, etc.), watch colourful barges being eased through the historic Regent's Lock, grab a bite at the canalside market square, or catch a weekend showing of cult movies with a pint and a burger at Backyard Cinema.
Hyde Park and Kensington Palace Gardens
My absolute favourite park in central London. From the Italian fountains of Lancaster Gate to the lush expanses by Kensington Palace and the Serpentine's swans and barges, everything here is idyllic.
Notting Hill
An Instagram lover's paradise, this romantic neighbourhood is filled with records shops, vintage boutiques, and rainbow-coloured townhouses. I even put together a bespoke photography walking tour of Notting Hill, which will take you to the best-looking streets in the area. You're welcome.
Rooftop Film Club
Rooftop Film Club is a unique outdoor cinema experience screening classic and cult films on London's most scenic rooftops, with the iconic skyline as a backdrop. Also has a full bar service, blankets, and street food!
Shoreditch street art
London's Shoreditch (and East End in general) is nothing short of a mecca when it comes to street art – not to mention hipsterism and curry houses, but that's a story for another time. Having been graced by the works of Banksy, Stik and Invader to name a few, Shoreditch has become a must-do for anyone with a keen eye for art and, possibly, an Instagram account.
Wallace Collection
Arranged into 25 galleries, the Wallace Collection comprises a world-famous range of fine and decorative arts from the 15th-19th centuries established from the private collection mainly created by the Marquess of Hertford. Easily my favourite art collection in the city, if only for the quietness and colourful rooms of this lavish-townhouse-turned-museum.
Millenium Bridge
Flanked by the Tate Modern and the Globe theatre on one side and St. Paul's Cathedral on the other, this footbridge was featured in Harry Potter's sixth movie and offers A+ views of the River Thames.
Tea masterclass
Jump right in Britain's love affair with tea in historic Twinings, England's premier tea brand, whose shop has open since 1706. Embark on a geographical and gustatory odyssey led by a Twinings Master Blender. A veritable treat for tea lovers!
Columbia Road Flower Market
Bustling flower market flanked by over 60 independent, quirky Victorian shops. Give it a go, even if you don't intend on buying flowers; the photos and the atmosphere are both well worth it. Open every Sunday from 8am to 3'ish.
Afternoon tea in London
While there are many options as far as London afternoon teas are concerned, I do have a personal favourite: the sketch pink experience. I couldn't believe how stunning sketch looked; it felt like I had entered a parallel universe. And the food? Scrumptious and flawless.
Make your own gin at Ginstitute
Artisan gin in England is not difficult to find. For instance there is the Beefeater Gin Distillery, the City of London Distillery, the East London Liquor Company and Sipsmith, to name a few, each with their own on-site activities and personnality.
But what if I told you there is a way you can actually craft your own gin? That's the promise at The Ginstitute. Enroll in a gin masterclass to learn the checkered history of this now ubiquitous spirit and to create your bespoke gin in the Blending Room, which is full of pure botanical distillates you can choose from with the insight of the Ginstructor. You'll be drinking plenty of generously-infused gin and tonics (word of advice: eat a little something beforehand) along the way, and you'll also be leaving the session with a bottle of your own personal blend to take home.
If you'd rather be more active and taste several different gins, there are also plenty of gin tours to choose from: