Photos of artsy & beautiful Plateau Mont-Royal
Ask any of the local Instagrammers where their favourite place in Montreal is, chances are it will be somewhere on Plateau Mont-Royal. Old-Montreal would be a close second, with its historic buildings and cobblestone streets; but Plateau Mont-Royal represents what it's like to live in Montreal, and is home to so many of the city's icons, like the twirling staircases, the hip coffeeshops, and the colourful facades.
It's a popularity contest others neighbourhoods will always lose, for Plateau Mont-Royal has everything, and in spades. Character, architecture, colours, and angles. What more could a photographer want?
I lived in the area for almost ten years (I only left because it got too expensive, not because I had outgrown it, I assure you); therefore, I have a LOT of pictures of Plateau Mont-Royal. If you ever visit this area – which I strongly recommend you do – and you see a blonde girl frantically snapping away facades and staircases, come say hi, it's probably me!
Plateau Mont-Royal – In Photos
The three photos below were taken on many different streets in the Mile End area of Plateau Mont-Royal, mostly on Hutchison and Durocher. This was an impromptu photo trip while I was waiting to meet with a friend at nearby Croissanterie Figaro. That's Montreal for you – brunch with a side of colourful facades.
Not to be outdone, the eastern part of Plateau Mont-Royal along Avenue Laurier is just as picturesque and has the benefit of having a more local atmosphere to it. Few tourists venture out in the area, preferring to stick to busy Avenue du Mont-Royal and the hipper western part. All the more room for me ♥
The street I used to live on, Avenue des Érables
Avenue Christophe-Colomb
Rue Saint-André
Rue Duluth
Rue Prince-Arthur Est
Avenue des Érables
Boulevard Saint-Laurent
If I had to pick only one photogenic area, and there are way too many for this to ever happen, I would probably choose the stretch of Avenue Laval between Square St-Louis and Avenue du Mont-Royal. Why? See for yourself.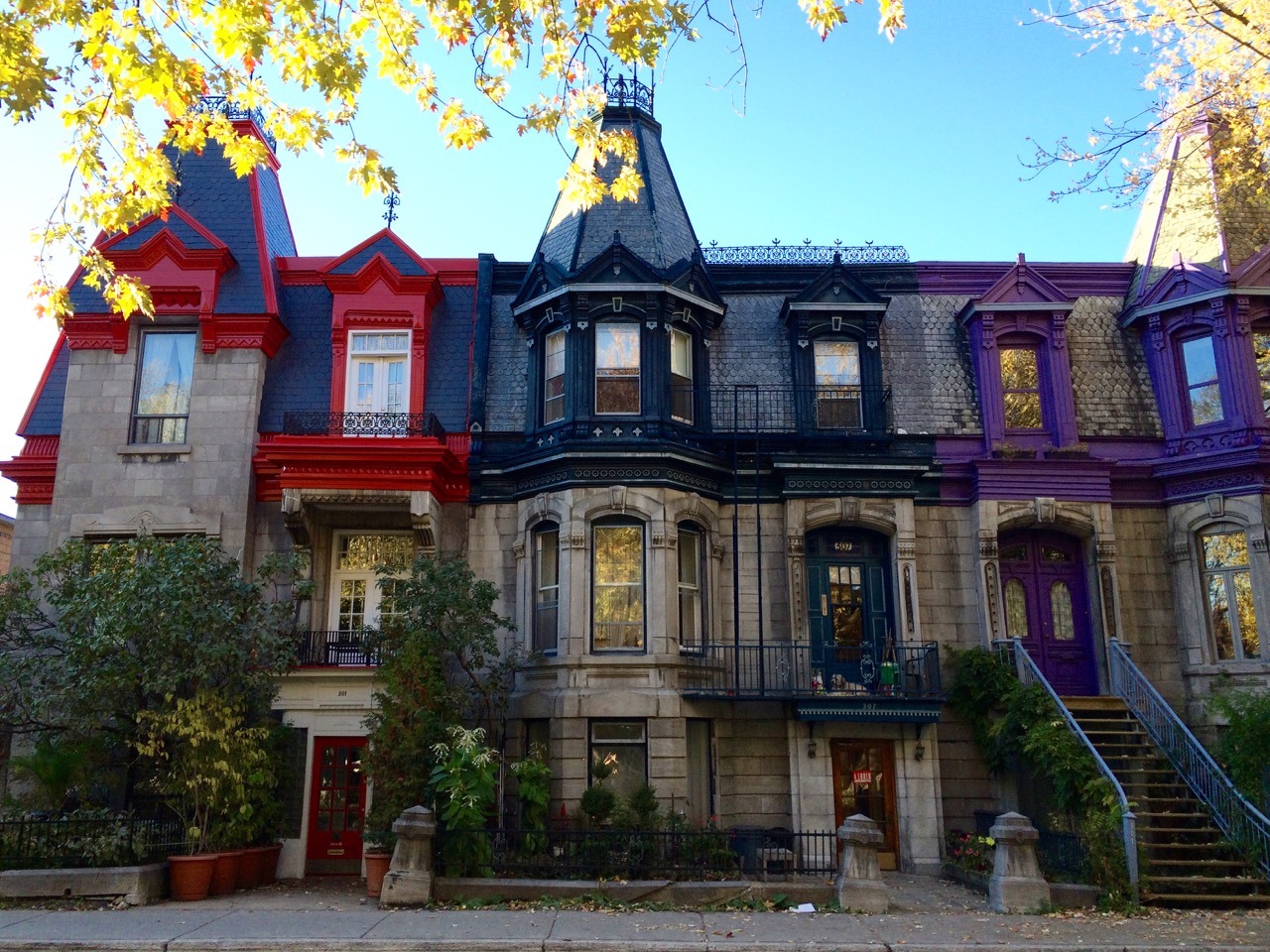 Plateau Mont-Royal: favourite locations for photography
Rue Drolet and Avenue Laval between Avenue du Mont-Royal and Square Saint-Louis
Rue Rivard, Rue Garnier, and Rue de Lanaudière between Avenue Laurier and Rue Rachel
Streets surrounding Square St-Louis
The leafy alleys of Parc Lafontaine and Parc Laurier
Église Saint-Enfant-Jésus du Mile End flanked by Parc Lahaie