From a local: 13 essential things to do in Montreal in 2023
Before we start – I'm well aware that 15 things is not a whole lot. I could list every single thing to do in the city, but trust me, you don't have that much time on your hands. Hell, even I don't have enough time to see and do everything. And I live here!
But if you're new to Montreal, if you want to hit up the main sights and tick these boxes off your bucket list, I'm your gal. These are what I feel will best represent Montreal, from a culinary, cultural, historical, and architectural point of view. Mandatory travel experiences, if you will, whether you have a day or a week in the city.
Bienvenue à Montréal!
Take a Montreal food tour
There are many food tours to choose from in Montreal, but my personal favourite is Local Montreal Food Tours. Wear your eating pants!
Montreal is nothing if not a foodie city. Our culinary classics might be of the greasy kind, but that doesn't make it's all we're good at! Montrealers love to treat themselves to a night out and have a good meal. In fact, Montreal technically has more restaurants per capita than New York City!
And if you're into microbreweries, know this: Montrealers like themselves a beer in the evening, and not just any beer. GOOD, craft beer. They take the art of brewing very seriously, and it's not a coincidence most brewpubs are continuously packed. If you'd rather have an expert show you around, there's even a Montreal craft beer guided tour.
Discover Old Montreal
Old-Montreal has SO many things to see and do, but if you find yourself a bit short on time, a walk along Saint-Paul Street will be a great option to cram in as much of the famous European atmosphere of Montreal.
There are tons of restaurants, bars, souvenir shops and art galleries along the way for your enjoyment, and since Montreal is a relatively cheap city to visit and live in, prices are quite fair even for a super touristy area.
Hop on a Montreal bike tour
Why not discover the city in a more active way? Book an afternoon with Fitz Montreal Bike Tours and see what artsy Plateau Mont-Royal and gourmet Jean-Talon Market have to offer.
More specifically, the Plateau & Jean-Talon Market bike tour lasts 3 hours and includes eating a bagel and riding the city's famed bike network across 5 different and fascinating neighborhoods. Montreal also has kilometres and kilometres of cycling lanes; use them!
Enjoy the specialties
That's a no-brainer, and probably on everybody's list already. But it was worth noting nonetheless! Neither of these dish look very appetizing, but trust me – once you've had your first bite, you'll never want to have fries or a sandwich any other way.
Best poutine in Montreal
While there are plenty of extravagant toppings you can pimp your poutine with, I recommend going with a classic one for a first taste — and if you must go big, add for extra frankfurters or bacon! My local poutine joint is Nouveau Système, which I truly love.
La Banquise (994 Rachel Est)
Poutineville (1365 Ontario)
Nouveau Système (323 Beaubien Est)
Chez Tousignant (6956 Drolet)
Patati Patata (4177 St-Laurent)
Smoked meat in Montreal
Sure, all guidebooks say that Schwartz's is a must-do whenever you crave a bite of Montreal-style pastrami. But I find the ever-increasing queues and the questionably sticky floors rather unnerving which inevitably takes me to my personal favourite, Lester's.
Lester's Deli (1057 Bernard Ouest)
Schwartz's (3895 St-Laurent)
Roi du smoked meat (6705 St-Hubert)
Visit one of the markets
Markets are a great way to interact with locals (mostly Instagrammers, as perfectly-symmetrical-photos-of-colourful-berries are hugely popular on the platform) and taste new things, especially in the summer when almost everything's in season (if you haven't tasted Quebec-made strawberries, you haven't lived a full life). If you're already a market lover, then perhaps a market tour would be a good idea. I also like to tell people to keep their "souvenir money" for the markets and spend it on locally made delicacies, like preserves, ice wines and ciders, and the seemingly infinite variety of maple products.
There are two main markets: Jean-Talon and Atwater. I have a preference for the latter because although smaller, it's in such a lovely location, ideal for a riverside picnic afterwards.
Stroll in Plateau Mont-Royal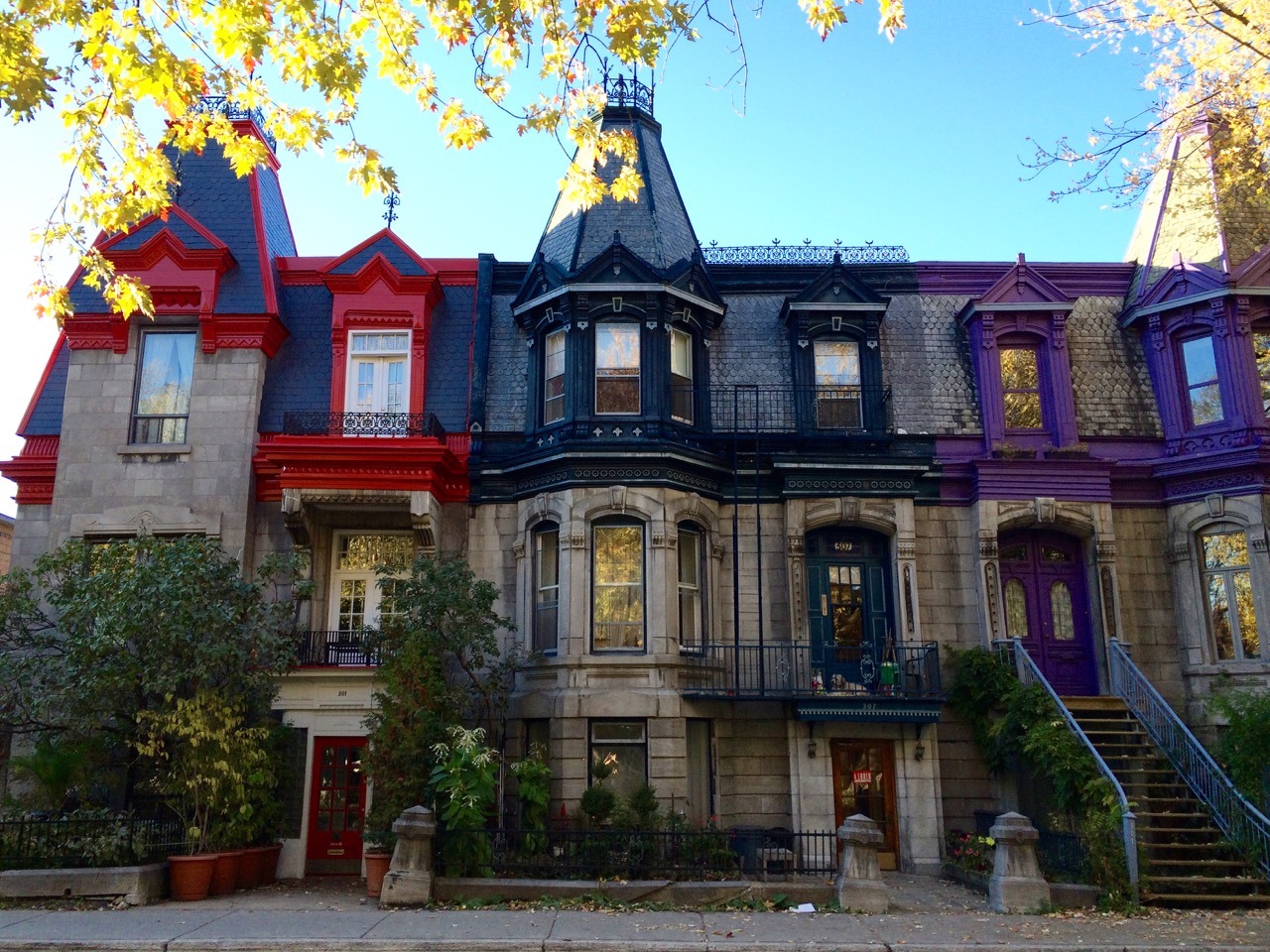 I couldn't leave my favourite neighbourhood out, now could I? You've probably guessed that I am extremely impartial when it comes to the Plateau, simply because I love it so much. And the best way to discover it is to simply walk around, marvel at the beautiful architecture, browse the local shops, sit at one of the many cafés and indulge in some people-watching.
Visit Space for Life
Welcome to the largest natural sciences complex in Canada! Not nearly as geeky as it sounds, it's actually a vastly enjoyable museum complex with botanical gardens, an insectarium, as well as state-of-the-art Biodome and Platenarium.
Well worth a half-day's visit, especially with little ones. It's also possible to go up the Olympic Tower; at 165 metres high with a 45-degree angle, this is the tallest inclined tower in the world and a true architectural masterpiece, built for the 1976 Summer Olympics. The glass-encased funicular brings visitors on a breathtaking two-minute ride to the top of the Tower. This one-of-a-kind funicular can hold up to 50 passengers and is the only one in the world built along a curved structure.
Go up the Mont-Royal
That's probably the best place to start off your journey, really. It's a beautiful walk (or bus ride, if you're lazy like me), it's entirely free of charge, and the Belvedere observatory offers amazing views of downtown Montreal and the mountains over on the south bank. Great selfie spot, too.
Tip: if you're brave enough to get up really early, try to catch the sunrise from atop Mont-Royal. Seeing the morning light slowly make its way over the skyscrapers is such a beautiful thing.
Book a themed guided tour
Montreal is a very walkable city and, as such, there is no shortage of walking tours in these parts. Just take your pick! Whether you're into bikes, architecture, vintage cars, Victorian boutiques, street art, there's a pretty good chance there's a walking tour perfectly tailored to yours interests.
Browse the boutiques of the Mile End
Think of the Mile End as Montreal's Soho; this is where fashion's at. There are plenty of boutiques in the area to keep shoppers busy for an entire day, but if you only have time for a handful, here are my recommendations:
Catch the newest exhibit at Montreal Museum of Fine Arts
While the museum's permanent collection is a fascinating glimpse into the Canadian history of arts, what really steals the show is the temporary exhibitions. Grand scale, big-ticket items, famous names, the Montreal Museum of Fine Arts has welcomed the works of artists like Chihuly, Rodin, Warhol, Gaultier and many more. Exhibitions are always worth the entry fee.
Eat a bagel
Move over New York City – we've got this.
To be completely objective here, I really do think our bagels are best. Ours are boiled in honey-infused water before they are baked, making them much sweeter than their NYC counterparts. To taste Montreal bagels, you basically have two options:
St-Viateur (263 St Viateur Ouest)
Fairmount (74 Fairmount Ouest)
These two bagel places are located just a few blocks away from each other, and they've been the subject of many debates, disagreements, break-ups, outrages, and family wars. Whatever you do, ask for a bagel fresh out of the oven – this is when the flavours are the most intense! And if you're really into bagels, I mean, REALLY into bagels, you can even book a bagel workshop.
Rest at Bota Bota spa
Housed inside a 1950's ferryboat moored in the Old-Port, Bota Bota offers a unique Nordic circuit with the city skyline as a backdrop and the lulling of the St. Lawrence River. Now that's bliss.
Get the book!
Find out where I go for a romantic date, for little-known artsy museums, for designer splurges, and for Instagram-friendly cafés. Inside this eBook you will find 40+ pages full of preciously handpicked, highly curated Montreal travel tips with underrated attractions, off-the-beaten path itinerary ideas, and neighbourhood highlights that locals love!