From a Local: 14 Essential Things To Do In Montreal
Before we start – I'm well aware that 15 things is not a whole lot. I could list every single thing to do in the city, but trust me, you don't have that much time on your hands. Hell, even I don't have enough time to see and do everything. And I live here!
But if you're new to Montreal, if you want to hit up the main sights and tick these boxes off your bucket list, I'm your gal. These are what I feel will best represent Montreal, from a culinary, cultural, historical, and architectural point of view. Mandatory travel experiences, if you will, whether you have a day or a week in the city.
Bienvenue à Montréal!
1. Go up the Mont-Royal
That's probably the best place to start off your journey, really. It's a beautiful walk (or bus ride, if you're lazy like me), it's entirely free of charge, and the Belvedere observatory offers amazing views of downtown Montreal and the mountains over on the south bank. Great selfie spot, too.
Tip: if you're brave enough to get up really early, try to catch the sunrise from atop Mont-Royal. Seeing the morning light slowly make its way over the skyscrapers is such a beautiful thing.
---
2. Take a Montreal food tour
Montreal is nothing if not a foodie city. Our culinary classics might be of the greasy kind, but that doesn't make it's all we're good at! Montrealers love to treat themselves to a night out and have a good meal. In fact, Montreal technically has more restaurants per capita than New York City!
There are many food tours to choose from in Montreal, but my personal favourite is the Mile End Food tour with Local Montreal Food Tours. (Offered during winter time)
Wear your eating pants!
---
3. Enjoy the specialties
That's a no-brainer, and probably on everybody's list already. But it was worth noting nonetheless! Neither of these dish look very appetizing, but trust me – once you've had your first bite, you'll never want to have fries or a sandwich any other way.
Best Poutine in Montreal
While there are plenty of extravagant toppings you can pimp your poutine with, I recommend going with a classic one for a first taste — and if you must go big, add for extra frankfurters or bacon!
My local poutine joint is Nouveau Système, which I truly love.
La Banquise (994 Rachel Est)
Poutineville (1365 Ontario)
Nouveau Système (323 Beaubien Est)
Chez Tousignant (6956 Drolet)
Patati Patata (4177 St-Laurent)
Smoked meat in Montreal
Sure, all guidebooks say that Schwartz's is a must-do whenever you crave a bite of Montreal-style pastrami. But I find the ever-increasing queues and the questionably sticky floors rather unnerving which inevitably takes me to my personal favourite, Lester's.
Lester's Deli (1057 Bernard Ouest)
Schwartz's (3895 St-Laurent)
Dunn's (1249 Metcalfe)
Roi du smoked meat (6705 St-Hubert)
The Main (3864 St-Laurent)

---
4. Walk on St-Paul Street
Old-Montreal has SO many things to see and do, but if you find yourself a bit short on time, a walk along Saint-Paul Street will be a great option to cram in as much of the famous European atmosphere of Montreal.
There are tons of restaurants, bars, souvenir shops and art galleries along the way for your enjoyment, and since Montreal is a relatively cheap city to visit and live in, prices are quite fair even for a super touristy area.
---
5. Visit one of the markets
Markets are a great way to interact with locals (mostly Instagrammers, as perfectly-symmetrical-photos-of-colourful-berries are hugely popular on the platform) and taste new things, especially in the summer when almost everything's in season (if you haven't tasted Quebec-made strawberries, you haven't lived a full life). If you're already a market lover, then perhaps a market tour would be a good idea.
I also like to tell people to keep their "souvenir money" for the markets and spend it on locally made delicacies, like preserves, ice wines and ciders, and the seemingly infinite variety of maple products.
There are two main markets: Jean-Talon and Atwater. I have a preference for the latter because although smaller, it's in such a lovely location, ideal for a riverside picnic afterwards.
---
6. Visit Basilique Notre-Dame
I'm not one to recommend visiting religious buildings unless it's absolutely necessary – and in this case, it is. The Notre-Dame Basilica is one of the finest of its kind, with one of the most ornate gothic facades in the world, and a strikingly beautiful chapel at the back. That's where you'll find the impressive organ everyone talks about.
Also, that's where Céline Dion got married. #fancy
---
7. Take a coffee break
Montreal is doing fairly well in terms of independent, hipster-approved, Instagram-friendly coffee shops. There are so many new ones opening up every month I can barely keep up! If you like to start your day with a cortado or a soy latte, these places should be on your list.
You may even see me there. Come and say hello!
Larue & fils (244 East De Castelnau)
Réplika (252 East Rachel)
Café Pista (500 Beaubien Est)
Café Parvis (433 Mayor)
MELK (908 St-Urbain)
CREW Collective (360 St-Jacques)
---
8. Eat a bagel
Move over New York City – we've got this.
To be completely objective here, I really do think our bagels are best. Ours are boiled in honey-infused water before they are baked, making them much sweeter than their NYC counterparts. To taste Montreal bagels, you basically have two options:
St-Viateur (263 St Viateur Ouest)
Fairmount (74 Fairmount Ouest)
These two bagel places are located just a few blocks away from each other, and they've been the subject of many debates, disagreements, break-ups, outrages, and family wars.
Whatever you do, ask for a bagel fresh out of the oven – this is when the flavours are the most intense!
---
9. Browse the boutiques of the Mile End
Think of the Mile End as Montreal's Soho; this is where fashion's at. There are plenty of boutiques in the area to keep shoppers busy for an entire day, but if you only have time for a handful, here are my recommendations:
---
10. Stroll in Plateau Mont-Royal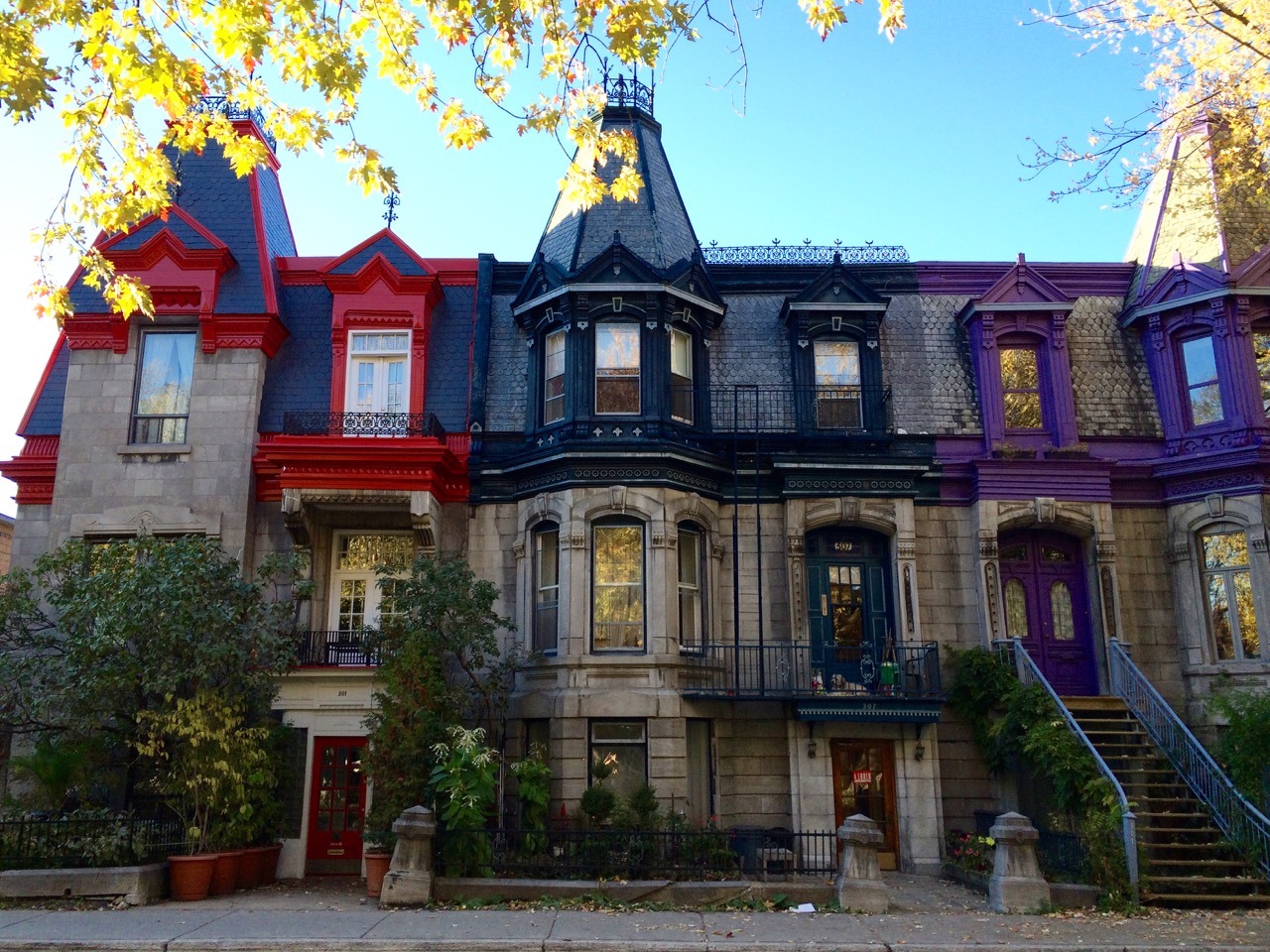 I couldn't leave my favourite neighbourhood out, now could I? You've probably guessed that I am extremely impartial when it comes to the Plateau, simply because I love it so much.
And the best way to discover it is to simply walk around, marvel at the beautiful architecture, browse the local shops, sit at one of the many cafés and indulge in some people-watching.
---
11. Taste the local craft beers
Montrealers like themselves a beer in the evening, and not just any beer. GOOD, craft beer. They take the art of microbrewing very seriously, and it's not a coincidence most brewpubs are continuously packed.
If you'd rather have an expert show you around, there's even a Montreal craft beer guided tour.
---
12. Catch the newest exhibit at Montreal Museum of Fine Arts
While the museum's permanent collection is a fascinating glimpse into the Canadian history of arts, what really steals the show is the temporary exhibitions.
Grand scale, big-ticket items, famous names, the Montreal Museum of Fine Arts has welcomed the works of artists like Chihuly, Rodin, Warhol, Gaultier and many more. Exhibitions are always worth the entry fee.
---
13. See Montreal from above
Located in the second tallest skyscraper in the city, Au Sommet (meaning: at the top) offers unobstructed views of downtown Montreal, the leafy Mont-Royal mountain, the Olympic Stadium, the River St. Lawrence, as well as the mountains of the South Shore.
Considering it includes an exhaustive and interactive exhibit about Montreal and the possibility of creating your own Montreal bucket list, I'd say it's well worth the $19 price tag.
---
14. Bota Bota spa
Housed inside a 1950's ferryboat moored in the Old-Port, Bota-Bota offers a unique Nordic circuit with the Montreal skyline as a backdrop and the lulling of the St. Lawrence River.
Now that's bliss.
---
Hotels in Montreal
Not sure where to stay during your next trip to Montreal? Whether you prefer the hustle of downtown or the quiet streets of the picturesque ancient port, here is a list of my favourite hotels in the city, from Old-Montreal to cosy Plateau Mont-Royal.