Montreal is For Lovers ♥ Everything You Need For a Romantic Weekend
Is it the omnipresence of French? The cobblestone streets so reminiscent of Europe? The abundance of dimly lit restaurants or the Canadians' innate bonhomie? Right alongside Paris and Venice —two quintessentially sentimental nations that, incidentally, saw tens of thousands of its residents emigrate to Montreal over the centuries— there is little doubt that Montreal is one of the world's leading romantic cities.
So on one hand, you have this deeply old-world-European-type of romance; on the other, you have a profoundly and well-documented sensualist society with a reputation that is not only well deserved but also historically accurate.
You see, Montreal was often referred to as 'Sin City' during the Prohibition era when thirsty Americans flooded the city's cabarets —a convenient train ride from the dried-out Tri-State area— and to partake in the romantic, pleasure-driven lifestyle adopted by locals. While contraband and brothels are no longer commonplace, the epicurean ways remained, and are now one of Montreal's most enticing features.
Here are 42 romantic things to do in Montreal with your significant other, either on a conventional date night or to celebrate a special occasion.
♥ Romantic Things to Do in Montreal ♥
Spas With a View
What better way to relax with your loved one than to book an indulgent R&R session at a spa, right? Montreal certainly doesn't lack in that department with not one but two jaw-dropping spas: the Bota Bota, which is housed in a converted boat in the Old Port and lulled by the rhythm of the St. Lawrence River as well as the sky-high rooftop jacuzzi at Hotel Crystal and its world-class Amerispa (where it is not only possible but also strongly encouraged to book wellness treatments) in downtown Montreal.
Old Montreal Food Tour
A visit to Montreal wouldn't be complete without one (or two, or three…) gourmet indulgences. After all, my hometown is nothing if not a foodie destination but it can be hard to fully comprehend the extent of our culinary heritage without a knowledgeable guide. Local Montreal offers three-hour long fascinating and well-priced food tours of the Old Port and Old Montreal that include five stops and seven tastings.
Helicopter ride
If you're truly in town to impress, then nothing is better than a helicopter ride over Montreal's distinctive and unique skyline, characterised by both water and mountains.
Romantic Hotels in Montreal
There are many great hotels in Montreal but some of them are intrinsically romantic, be it because of their location or their interior design.
Hotel William Gray, Hotel Gault, Hotel St Paul and Le petit hotel — coincidentally enough, all located in the old quarter — are great options for amorous getaways to Montreal.
Masterclasses & Workshops
Are you a gourmet kind of traveller? A tea aficionado? It's possible to mix knowledge with pleasure in Montreal by attending a tea masterclass, an Italian cooking class led by a local celebrity mother-son duo in the heart of Little Italy, a pastry workshop with a famous French chef or even a wine tasting workshop!
Speakeasy Drinks / Wine Bars
Even after 10 years of being in a relationship, my partner and I still plan romantic dates in Montreal whenever we get the opportunity (and by that I mean when I'm actually in town, what with being a travel writer and all); these candle-lit, quiet locales are perfect for intimate one-on-ones. My go-to spots are:
[left]Flyjin
Bocata Wine Bar[/left][right]Le mal nécessaire
M.Mme[/right]
Au Sommet PVM
Admire Montreal from very high up at the newly-opened Au Sommet observatory deck, atop what used to be Montreal's highest skyscraper.
Al Fresco Picnic
Believe it or not, but Montreal is not constantly covered in snow. In fact, it can get downright balmy in the summertime; this is when many locals like to meet up with their partner and friends in Parc Laurier — there are plenty of cute cheese shops and bakeries on Laurier Street where it is possible to pick up supplies.
A great option for visitors (apparently not everyone carries a bottle opened and cutlery in their weekender bag!) is Dinette Triple Crown in Mile-Ex: ask for a takeaway order for the park across the street and you'll be offered a cute picnic basket complete with flatware and the most quintessential picnic item there is, a checkered table cloth.
Cosy Coffeeshops
You guys are well aware of my obsession with cute coffee shops by now, and obviously I wouldn't even consider writing a list of romantic things to do in Montreal without mentioning a few of my personal favourites. Not only do they have the tremendous advantage of serving exceptional coffee, they're also aesthetically pleasant shelters from Montreal's oftentimes rigorous weather: Crew, Canal Lounge (a houseboat on the canal), Saint-Henri at Jean-Talon Market and Larry's.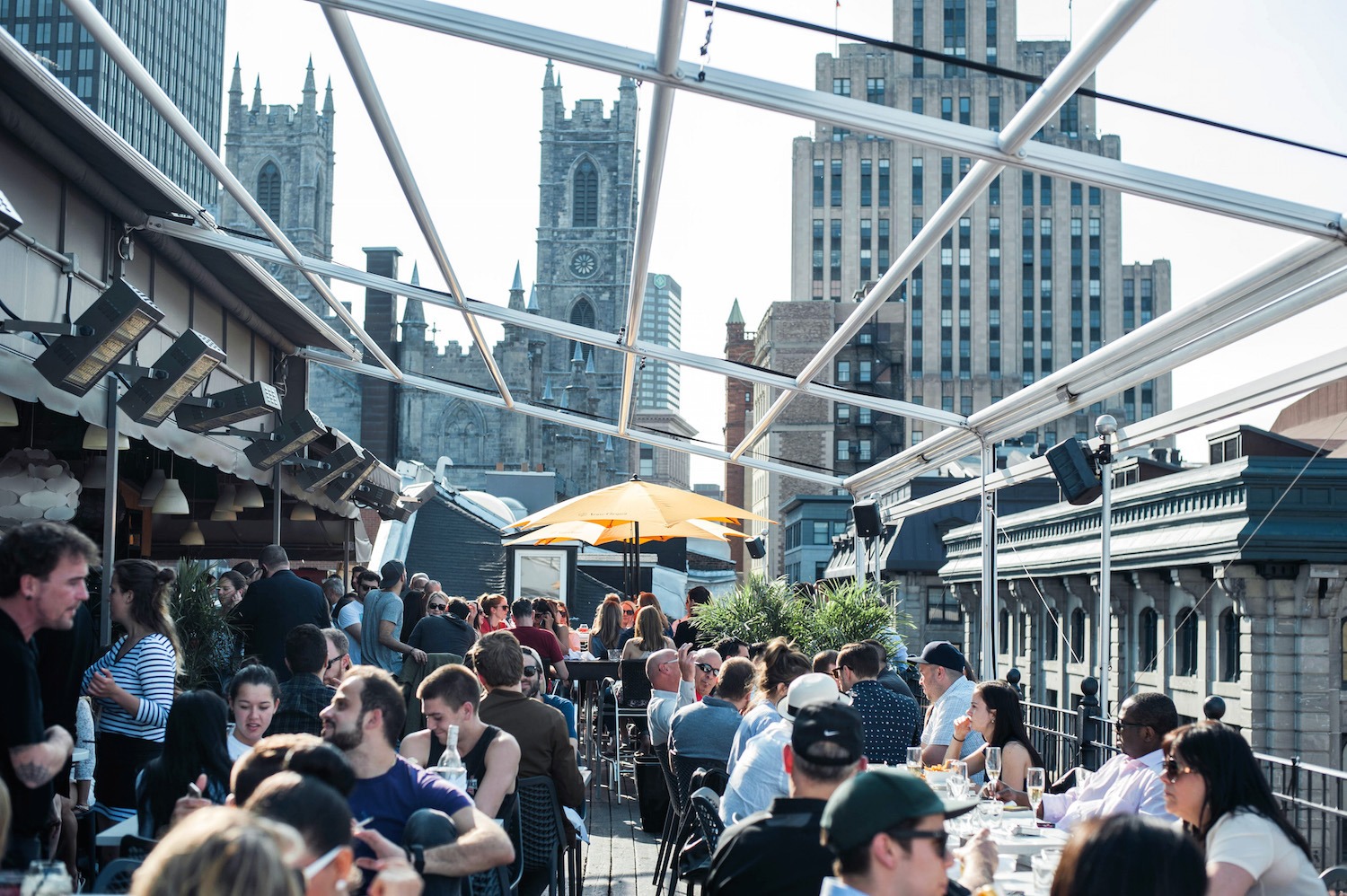 Rooftop Terraces
Weather permitting, of course, Montreal rooftop terraces are an excellent idea for a dreamy date with a unique vantage point — not to mention excellent selfie opps. My three favourites are all in Old-Montreal, which is great for both river and mountain views: Terrasse Nelligan, Terrasse Place d'Armes and Terrasse sur l'Auberge.
Intimate Restaurants
What could possibly be more "date night" material than a quiet restaurant with fantastic food and a smashing wine list? Montreal clearly doesn't have a shortage in those (ahem, we have more restaurants per capita than anywhere else in the world aside from New York City) but I do have a selection of personal favourites that's been fine-tuned over the years. This is where you should go for a romantic restaurant in Montreal.
[left]Da Emma
Agrikol[/left][right]Kyo bar japonais
Foxy[/right]
Bixi
Who said dates had to happen at a bar or sitting down at a restaurant? Take advantage of Montreal's innovative bike-sharing scheme to explore the city's nooks and crannies with your loved one.
Chinese Lanterns at the Botanical Gardens
100% of Montreal-based couples have attended this exhibition at one point or another in their relationship; it's pretty much like a rite of passage, really. With reason: the thousands of colourful, intricately designed, delicate lanterns scattered everywhere illuminate the Chinese Gardens in the most beautiful way.
Helpful tip: to avoid line-ups and crying infants (which would definitely defeat the romantic purpose of this outing), plan your visit at around 8PM early in the week.
Shop for rings at Maison Birks
If a special someone enthusiastically said yes to a very special question, then head on over to Montreal's most acclaimed and most respected jewellery store. Maison Birks has been in business in the same stunning building since 1894, making it one of the nation's longest-running corporations. It was founded by a silversmith, Henry Birks, and his three sons and catered to the wealthiest families in Montreal, which at the time was the prosperous financial capital of Canada. La Maison Birks even received a royal warrant in 1934!
 
Eating With A View
Most restaurants elsewhere in the world would add what I call a "stunning view tax" to their menus; but this is Montreal, and here, it's about the food first and foremost. These are three great places to eat, two of which are atop skyscrapers (Portus 360 // Les enfants terribles) and the other one alongside the city's historic canal, Marché des éclusiers.
Marie's Montreal – Get The Book
For even more things to do in Montreal as well as restaurant suggestions, local photography tips, and pre-set itineraries, get the Montreal city guide for just $9. It contains everything I know and love about Montreal!
[wpgmza id="36″]