River cruises in Europe: are they worth the price?
It's no secret that river cruises in Europe have been getting increasingly popular over the past decade as more and more travellers head to the Old Continent to enjoy the advantageous currency.
But why do river cruises have such a bad reputation? I think it's important to debunk the myth that they're only meant for prosperous retirees. I've had the chance to cruise with both AMA Waterways (Enchanting Rhine) and Viking (Danube Waltz) to truly get a sense of this increasingly popular travel trend. I wanted to break down the real costs of river cruises, which often ends up being a dealbreaker for travellers of my generation.
Yes, river cruises are more expensive than a shoestring backpacking excursion in the Balkans. It is not the cheapest possible way to explore Europe. But what is worth considering is how much you get in return for your precious dollars.
River cruises in Europe: what you get
Three full meals a day
During my cruise on the Danube I ate like a queen and probably gained a few pounds despite all the walking I did while out exploring. Breakfast was a smorgasbord of fresh fruit, various kinds of granola, and the typical brunch fare, which was complemented by a bread bar, an omelette and pancake bar, and unlimited supplies of juice and speciality coffee. Lunch was a simpler and more informal affair but was not any less tasty. Dinner was the main event, though, with a new menu every day as well as complimentary beer and wine, all of which were inspired by the culinary heritage of city we were docked in. Coffee, tea, and cookies were available throughout the day, too.
I also think it's worth pointing out that while cocktails and spirits are not included in the price of the cruise, they are, nonetheless, very reasonably priced: I paid just €5 for generously-sized Aperol spritzes.
A comfortable stateroom
I didn't get to spend that much time in my stateroom but it wasn't because I was avoiding it – I was either working in the lounge or away on an excursion. The room was cleverly laid out (with a bed high enough to store suitcases underneath it, and ample storage for clothes and personal items) and the bathroom, while on the tiny side, was perfectly efficient.
And, unlike massive ocean liners, every room has, at best, a private balcony, or at the very least, a floor-to-ceiling sliding door for ample natural light.
Transportation
Obviously, transportation is included when you pay for a river cruise. But what novices don't necessarily realise is how expensive it can be to travel from one city to another in Europe in such a short amount of time. With 6 cities in just 8 days, you're looking at rather costly high-speed train tickets, which add up quickly – not to mention how exhausting it would be to pack/unpack every single day. Having a "home base" for the entire duration of the trip truly made it more enjoyable.
Some cruise ships companies even have bikes on board and allow passengers to bike from one port of call to the other.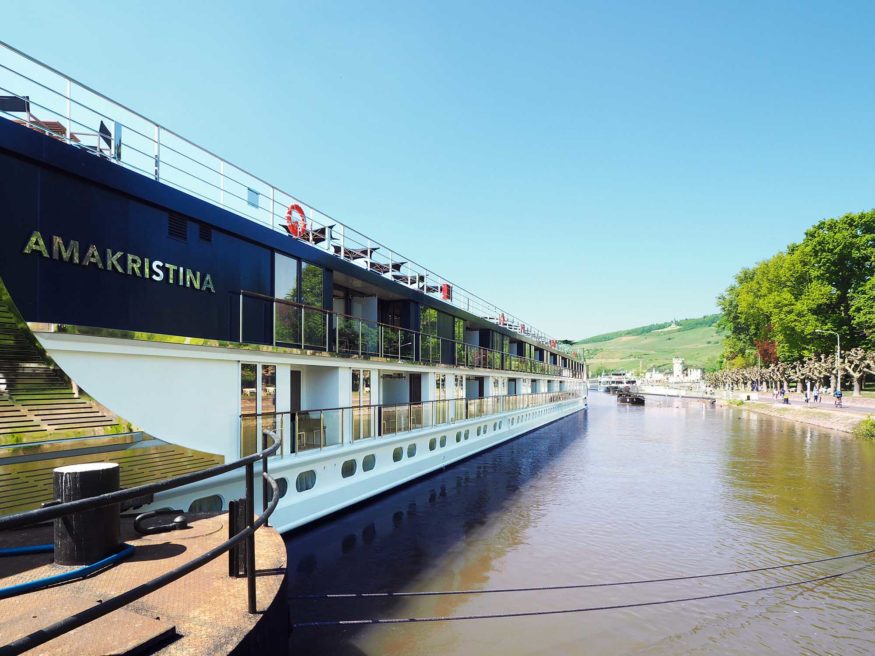 Guided tours in every city
Every port of call features a complimentary guided visit with a local guide. Themed and experiential visits are sometimes available at an added cost (like a Mozart & Strauss concert in Vienna, or entry at the Budapest thermal baths, for example). This is why they're called "cashless cruises": you don't have to pay for anything extra if you don't want to.
Onboard activities
Between the themed dinners, cocktail parties, game nights, gingerbread cookie classes (!), and live music… let's just say I wasn't bored on this cruise. Oh, and the scenery wasn't bad either. Our cruise director, Mieke, was very diligent in pointing out noteworthy sights along the way.
WiFi
Cruises don't have the best reputation was far as WiFi and mobile reception is concerned but that wasn't an issue at all on this Danube cruise. I was even able to upload a video to my Facebook page while we were docked in Vienna!
Peace of mind / convenience
Having everything laid out for you (literally; you will get a journal of activities delivered to your room every night) comes at an evident cost but if you're after a relaxing, stress-free holiday then river cruises certainly fit the bill.
River cruises in Europe: the lowdown
Contrary to popular belief, river cruises – and even cruises in general – are not exorbitantly expensive and are not exclusively geared towards wealthy travellers either. The 8-day Danube Waltz river cruise I was on starts at just $2800 per passenger excluding flights, which, considering everything that's included and the extent of the trip, isn't outrageously expensive in my opinion. Again: factor in three full meals a day + snacks, accommodation for 8 nights, transportation to/from 6 cities and guided visits in each of those cities, admission fees for select attractions, as well as onboard amenities like WiFi and entertainment… that's a lot of simoleons.
If you're at liberty with your travel schedule you could even wait for special fares; most companies will offer free airfare or 2×1 deals if you're willing to book within specific dates.
In a nutshell: yes, river cruises in Europe are worth their cost if your main concern is not the price tag itself but instead the value of what you're getting in return.
Clearly this is not the cheapest possible way to travel around Europe; you get good value, yes, but let's not beat around the bush here. You're still going to have to fork out a few thousand dollars for the experience. However, if you're strapped for time, unwilling to commit to just one country, and unable to invest yourself in planning your holiday, then I sincerely believe that river cruises are a great option for you.